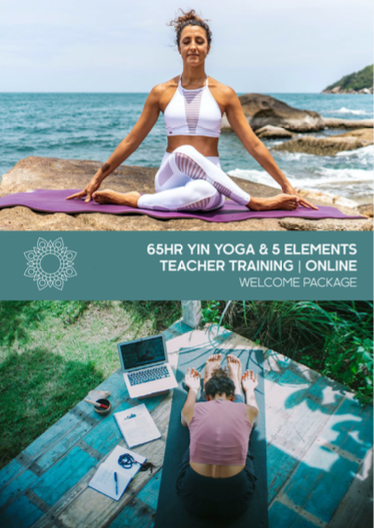 65 HR YIN YOGA & 5 ELEMENTS TEACHER TRAINING
Are you ready to get started?
Before you begin
Setting up Your Space.
Start by finding a quiet and safe space in your home where you will not be disturbed while you are attending the course. This sacred space will be used during the next few weeks for your own practice and lectures and hopefully, you will continue to use it after. Decorate this space to your liking so that when entering it, you will feel your mood and energy soften into a calm and relaxed state.
Things to have with you: Notebook or journal, pen, yoga mat, one yoga block (or some books), one or two bolsters or long and firm pillows to support your spine, and one or two blankets.
Keeping a journal during the training is something I strongly recommend, as it really helps to integrate and witness anything that may arise within.
Download the Welcome Package before you start this training.
Download the Yin Yoga Teacher Training manual. I highly recommend reading the manual so you can start getting familiar with the language and material of the training.
Become a member of the yin tribe, join our private Facebook group: This Facebook group has been created in order to connect, communicate with each other, ask questions and share experiences about the training.
This training was done & recorded in one week, but it is only a suggestion, you can take as much time as you need to complete it.
Watch all the intro videos.
In order to receive the certificate upon completion of this course, you will need to watch all the videos and submit the homework and final assessment.
The final assessment will be done by the end of the course. You will need to record yourself teaching a 60 minutes Yin Yoga class, and then upload the video and submit the link either by email or upload it on YouTube (private setting) and share the link with Alicia. E-mail Alicia for any questions at yogaliciacasillas@gmail.com.
There are some Yin & Yang Yoga sessions in this course, as it´s very important to have balanced Yin and Yang energies. Just listen to your body and practice mindfully according to your needs of the day.
Excited? Perfect! That's right where we want you.
With love & Service
Alicia
Please click here to download the Welcome Package