BEGIN YOUR SOUL EXPLORATION NOW
Unearth your truest, wisest and healthiest self.
Are you ready to awaken your heart?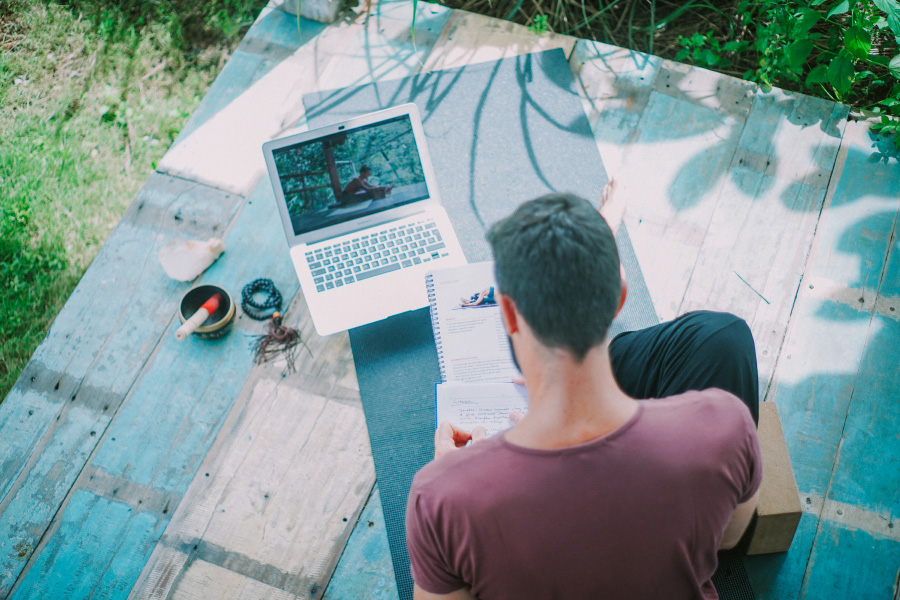 Dive into the transformative power of Yin Yoga to enliven your body, reconnect with your heart and nourish your soul.
Our comprehensive Yin Yoga Teacher Trainings will give you the opportunity to slow down and listen to what is happening within whilst guiding you on a path of deep connection with yourself and with the world around you.
Becoming a Yin Yoga teacher invites you to explore your purpose on a deeper level than just the physical body, enabling you to restore and revitalise your life from the inside out.
"Each time you get on your mat is an act of self-love. Let's make it a regular ritual
Want to make yoga and meditation a part of your routine but don't know where to start?
I hold a range of private and group yoga classes in Bali that allow you to deepen your practice and focus on your personal needs. Not on the island?
Access my ever-growing library of online yoga classes that are perfect for anyone from newbies to advanced yogis, turning your once-in-a-while practice into a lifelong self-love ritual.
"Reiki is the art of inviting happiness"
(Mikao Usui – father of Reiki) 
Do you want to reveal new layers of your personal growth and self-healing journey?
Reiki is one of the most powerful ways to gain a better energetic and spiritual understanding of our bodies and is an incredible tool for recovering and restoring our natural balance.
Experience deep cleansing and profound clarity like never before with this impactful healing modality.
Meet your teacher
Alicia
My greatest adventure began when I decided to become a yoga teacher 10 years ago. Since that moment, my life has been infused with more depth and meaning than I ever thought possible. If you're curious, you can read more about my story here
When I teach, it comes straight from the heart. My true soul-purpose is to share the ancient teachings of yoga, meditation and Reiki with the rest of the world.
Whether you are located in Bali (like me) or anywhere else in the world, I believe that you don't have to travel far to connect deeply with yourself. If you are looking to reawaken a deep connection to your mind, body and soul, you're in the perfect place.
This is the perfect opportunity to learn everything you need to know to about becoming a skilled Yin Yoga instructor. You will receive all the personalized features of an in-person training but with the added convenience of studying at your own pace, from the comfort of your own home.
These Reiki courses are designed for those who want to learn Reiki for themselves or to become a practitioner. Reiki Level 1 & 2 certification are experimental hands on courses where you can discover a deeper, quieter and more intuitive part of yourself and those you choose to share it with.
This Yin Yoga Teacher Training is for experienced and aspiring yoga teachers and students alike who wish to enhance their knowledge of yin yoga – "the quiet practice".  Discover the anatomical and energetic theories of yin yoga for your own personal practice and/or with the intention to teach. 
Transformational stories from past students
"I feel so lucky to have had Alicia as a teacher during the training and now to have her in my life moving forward. She is the most compassionate and genuinely caring person. Her yin classes perfectly capture what I want to give to my own students through teaching. Her deep understanding of the poses as well as her practiced mindfulness provided me inspiration on my journey to becoming a yoga teacher."
"Alicia has a special kind of magic which is transmuted through her classes and teaching. I met Alicia in Bali in February of this year just before lockdown happened when I came back to London. Her classes were like none I had experienced before. She has a soft and nurturing style while also able to guide and help me express my deepest version of various poses. Her energy is warm, playful, and inspiring. Throughout Lockdown I joined her online series and was amazed at her understanding and capacity to share her wisdom about yoga, pranayama and meditation. Her classes helped me remain centred and balanced when the world outside was a far cry from that. Each class was unique and the difference that I felt before and after each one was palpable. She is a beautiful gift that I am extremely grateful to have met."
"Alicia is a talented, authentic, gentle, and humble soul. I'd highly recommend her yin classes or workshop if you are looking to feel grounded and open up emotionally and physically! Outside of her classes, Alicia takes the time to understand her students on an individual basis and checks in with them as needed. Alicia is organic and healing in her teaching and this is undeniably reflected in her relaxing classes."