Unearth the power of Yin Yoga and its profound impact on the mind, body, and soul as you venture on an exciting path of insight, knowledge, and understanding.
The Yin practice embodies a meditative and slow-paced approach to yoga, allowing for an enlightening exploration of the self to unfold. Yin Yoga gives the opportunity to restore health, release trapped emotions, and connect with the real you.
Originating from the Taoist concepts of Yin and Yang, this detailed training will provide you with the tools to incorporate these elements into your practice and help you become a skilled instructor in Yin Yoga.
A 50-hour online training with a highly functional approach to Yin Yoga that includes a comprehensive curriculum with all of the resources, tools, and content required to become a certified Yin Yoga teacher or practitioner.
This online course features all of the benefits of in-studio training, such as highly personalized feedback and individual support, with the added convenience of a flexible virtual learning experience, so that you can study in your own time, on your own timezone.
Your own sacred space – your home – will be the perfect backdrop for you to go within and witness the beginning of a new chapter.
WHAT WILL I LEARN?
Throughout this online course, you will study the theory of Yin Yoga and learn practical ways to incorporate it into your own practice and your classes.
You will learn the anatomy of the body applied to Yin Yoga, Yin Asana, Pranayama, and the core principles of meditation, along with the fundamentals of the energetic body and how to apply this knowledge into your daily life.
By the end of this course, you will have secured a solid understanding of Yin Yoga and will be able to confidently guide others in developing their own Yin Yoga practice and teachings in a safe and engaging way.
YOU'LL LEARN HOW TO…
Understand the principles of Yin Yoga and how to teach in a safe way.
Use the archetypal poses and their variations.
Advance your knowledge about anatomy and the human body.
Skillfully practice and modify the Yin Yoga poses.
Identify the target area of every yoga asana.
Comprehend where you should feel the effects of the poses.
Learn how to use props during your Yin classes.
Learn how to balance a Yin and Yang Yoga practice.
Build a creative and effective Yin Yoga sequence with different options and variations.
Deepen your knowledge about the energetic body and Chakras.
Learn how to teach meditation and a pranayama session.
Create transformational Yin Yoga classes that deliver a beautiful experience.
Qualify to log an additional 50 hours of training and continued education with Yoga Alliance.
COURSE CURRICULUM
The Art of Yin Yoga
History of Yin Yoga.
Yin Yoga theory and application.
Stabilizing and deepening a Yin Yoga practice.
Comparison of a Yin and Yang practice.
Yin Asana benefits and contraindications.
Archetypal poses and their variations.
Appropriate use of props.
How to create and hold a safe space.
Developing your teaching voice.
Sequencing Yin Yoga classes.
Our Bodies
Anatomy applied to Yin Yoga.
Compression and tension theory.
The fascia and connective tissue.
Yin and Yang are related to the body.
The physical and subtle bodies
The 5 koshas and energy fields.
The chakra system and how to relate it to daily life.
How to recognize imbalances in the subtle bodies.
The sympathetic and parasympathetic nervous systems.
Understanding the relaxation response
Introduction of Yoga Nidra and application.
Pranayama & Meditation
Qi, Prana, or life­–force energy.
Nadi Shodhana and nostril breathing
Belly breathing (diaphragmatic breathing)
Full Yogic breath and practice.
Long Exhale breathing.
Bhramari humming bee breathing
Chakra balance and meditation.
Mindfulness awareness meditation.
Walking meditation.
Metta loving-kindness meditation.
Soham meditation.
Yoga Nidra practices.
WHAT'S INCLUDED
 Resources and Materials
Comprehensive 50-hour training
Printable Color Yin Yoga Training Manual
Full-length Yin Yoga Sessions
Video Lectures and Presentations
At-home workbook
Further reading
Kit box on how to sequence your Yin sessions
Class sequences prepared for you to teach and practice at home or in your studio.
Homework and final assignment
You Will Also Get…
Lifetime access to all of the course material, including any course updates that are continually being added.
Personalized feedback and support from Alicia for when you need some extra guidance during your training.
Access to a beautiful community of Yin Yoga teachers around the world that you can connect with at any time to share your experiences with.
A 50-hour certificate accredited by International Yoga Alliance upon completion of the course.
ABOUT THIS TRAINING 
Alicia believes overall health and wellbeing are not solely achieved by working with only the physical body but also maintaining emotional stability and mental clarity. One of the main goals of this training is to promote mindfulness and healing through Yin Yoga and Traditional Chinese Medicine. The practice of Yin Yoga allows the students to understand who they are as a whole and invite them to discover themselves on a much deeper level. The word Yoga means to unify all aspects of self; the emotional, energetic, mental, spiritual, and the physical, so by using the practice of Yoga and mediation for healing and self-discovery.
Alicia's backgrounds are from extensive healing modalities, including Thai Massage, Reiki, Cranial Sacral Therapy. These have given her extensive knowledge and understanding of the human body and psyche. Her extensive training and personal practice allow her to share the connection of the mind, body, and soul to students during Yoga. Alicia is sharing this training from a place of healing, compassion, understanding, and love for her students to grow and expand on all levels and hoping to encourage them to embrace their unique journey through the study of Yoga.
The world we live in right now moves and changes at such a fast pace that we find ourselves chasing and looking for answers, peace, and happiness externally. During this training, Alicia will provide the time and space that we all need to look within, learn to listen, and get to know our bodies and ourselves. This will be a way we can begin to learn to understand what we all need for healing—inviting students to use these mindfulness and self-awareness tools to benefit themselves and others.
 In this course, you will Learn How To…
teach Yin Yoga and develop your teaching voice
create and hold a safe, trusting space for your classes
develop a somatic meditation practice
stabilize and deepen a yin yoga practice understand our emotions our organs work and what their corresponding emotions are
differentiate between yin and yang yoga practice, the benefits of each, and how they complement each other
recognize when there is an imbalance in the body that could lead to illness or disease
know what type of food is suitable for each season
develop awareness into the subtle bodies
embody the Yin quality in your life, opening to acceptance, receptivity, compassion, stillness, and self-love. our fascia can affect our mood
listen to our bodies, getting to know one's patterns, belief systems and what creates our reality in our life, and how one shift them in a conscious way
CERTIFICATION & CONTINUING EDUCATION 
This training qualifies students for 50 hours of Yoga Alliance Continuing Education hours. Students will receive a homologated certificate from Yoga Alliance at the end of the training. (YACEP)
ABOUT THE TEACHERS
Yin Yoga Lead Teacher: Alicia Casillas 
Alicia was born in Spain and became a professional athlete at the age of fourteen years old. She began her yoga journey when she moved to the United States to earn her Bachelor's Degree at the University of Miami. Alicia first turned to Yoga to recover from a severe physical injury she acquired as a professional swimmer. Through Yoga, she discovered how to connect and balance her mind, body, and soul.
She has practiced and taught around North America, Europe, and Asia for more than ten years. She is an experienced yoga teacher E-RYT 500, and a Continuing Education Provider by Yoga Alliance who has been teaching Yoga Teacher Trainings since 2015 in Thailand. She trained in various lineages and schools in Thailand, India, Indonesia, Spain, and the USA; Ashtanga Vinyasa, Hatha Yoga, Akhanda Yoga, Vikasa Yoga, and Yin Yoga. Alicia has completed over 500 hours of Yin Yoga training with Yin Yoga Master Sarah Powers, Tina Nance, and Jamie Clarke (teaching assistant of Paul Grilley). She has also attended several anatomy and physiology training and workshops in different healing modalities.
Alicia is also trained as Reiki Master and Craniosacral Therapist under Upledger Institute, allowing her a better understanding of the wholeness of our being. Her holistic approach allows her to work with the student as a whole, listening to every part of the being. Yoga enables Alicia to share methods, tools, and techniques to help one achieve a healthy, mindful and happy way of life.
Jonathan Lefevre: Anatomy and Meditation Theory Teacher
Jono was born in Tahiti and grew up with hippie parents between Polynesia, Bali, and India. After a long, formative period of traveling across Asia and studying meditative practices with monks and Earth medicine with shamans, he eventually went into more academic training. He graduated from the Kimura Shiatsu Institute in Japan, studied biology at the University of San Diego, and became an osteopath at the British School of Osteopathy. Having always had one foot in the spirit world, his work combines mind-body techniques from various, native traditions and myofascial osteopathy, all of which help to release blockages found within vibratory fields. When not working in his private practice or surfing, he also teaches various bodywork seminars along with anatomy and philosophical aspects of yoga.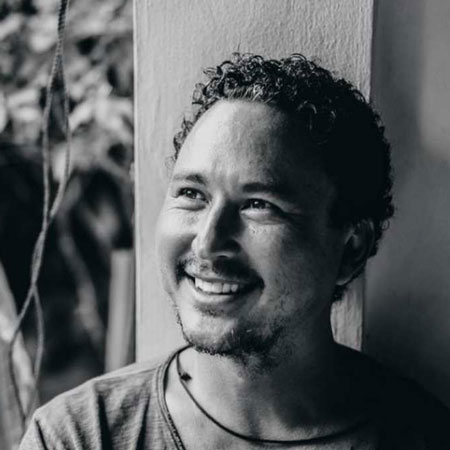 Camila Reis: Yoga Nidra Teacher
Camila Reis has been working as a Yoga, Meditation, and Breathwork teacher for over 7 years. She started her journey in her hometown of Rio de Janeiro in Brazil. After a few years of teaching Yoga, and practicing Meditation in Buddhist temples in Brazil, she decided to travel to the sources. She moved to Asia to deepen her practice and knowledge. Since then she has been living like a nomad, traveling the World hosting retreats & teaching Yoga teacher training, mostly in Thailand and Bali. Camila loves to share her knowledge and passion for Yoga and Meditation with others. She also likes to combine these skills with other sports. In her spare time, she is always exploring herself and her limits, practicing inversions, freediving, and surfing.
Take the first step in a new direction and begin your journey in becoming a certified Yin Yoga Teacher now.